[Update] Additional details added from Japanese announcement
---
Following weeks of speculation that SNK is working on a new title for Switch, Nintendo officially announced
SNK HEROINES:Tag Team Frenzy
via this week's
Direct Mini
on YouTube. The game is also coming to the Sony PlayStation 4.
For North America--according to press release shared by
Miketendo64.com
--the Nintendo Switch version will be available physically and digitally while the PS4 retail version can only be purchased as a limited edition on the upcoming official SNK Online Store powered by NISA, and will also be available digitally. Release formats for other regions have not yet been announced.
As long-time SNK fans may quickly take notice, SNK HEROINES:Tag Team Frenzy from first impression of the trailer looks like a modern-day take of
SNK GAL'S FIGHTERS (2000)
on a graphics engine akin to KOF14. The game plays as a 2-on-2 tag team fighter, supports up to 4 players, and features online battle. The player characters can switch mid-match as a tag team game; two life bars are displayed on top screen and the partner character is seen in the background. Opponents low on life must be knocked out with a "Dream Finish" move, giving them better chances of a comeback.
As a new feature that hasn't been seen in traditional fighting games,
SNK HEROINES:Tag Team Frenzy
has a pseudo-gambling system where spectators can wage in-game points on who they think will win. The points can be redeemed for in-game items such as costumes, accessories, and voices.
[Update]
Additional details have become available from the
Japanese announcement
:
- The game takes place in a gorgeous but mysterious mansion. Heroines abducted to the mansion pair up to participate in this banquet of battles.
(Note: As fans may notice, this seems to be a take on the weekly manga series on SNK's official site)
- The character fighting in the front of the screen is called the
attacker
, and the character on standby in the background is called the
supporter
and can help out the attacker by using various items to assist and also interfere with the opponent. The items can be earned by fulfilling certain conditions during the match.
- The opponent can only be knocked out with a "Dream Finish" move.
- Characters can be customised with costumes, accessories, voices, etc that can be redeemed with in-game points. The game lets you take screenshots and you can chose poses for your character, direction of glance, etc, as well pick from a selection of backgrounds and stamps to decorate your screenshots.
- Moves can be executed by just a press of a button, or direction + button, allowing easy control for players of all levels.
Five characters of the full inital roster are currently known, with the remaining characters teased in SNK's traditional silhouette format.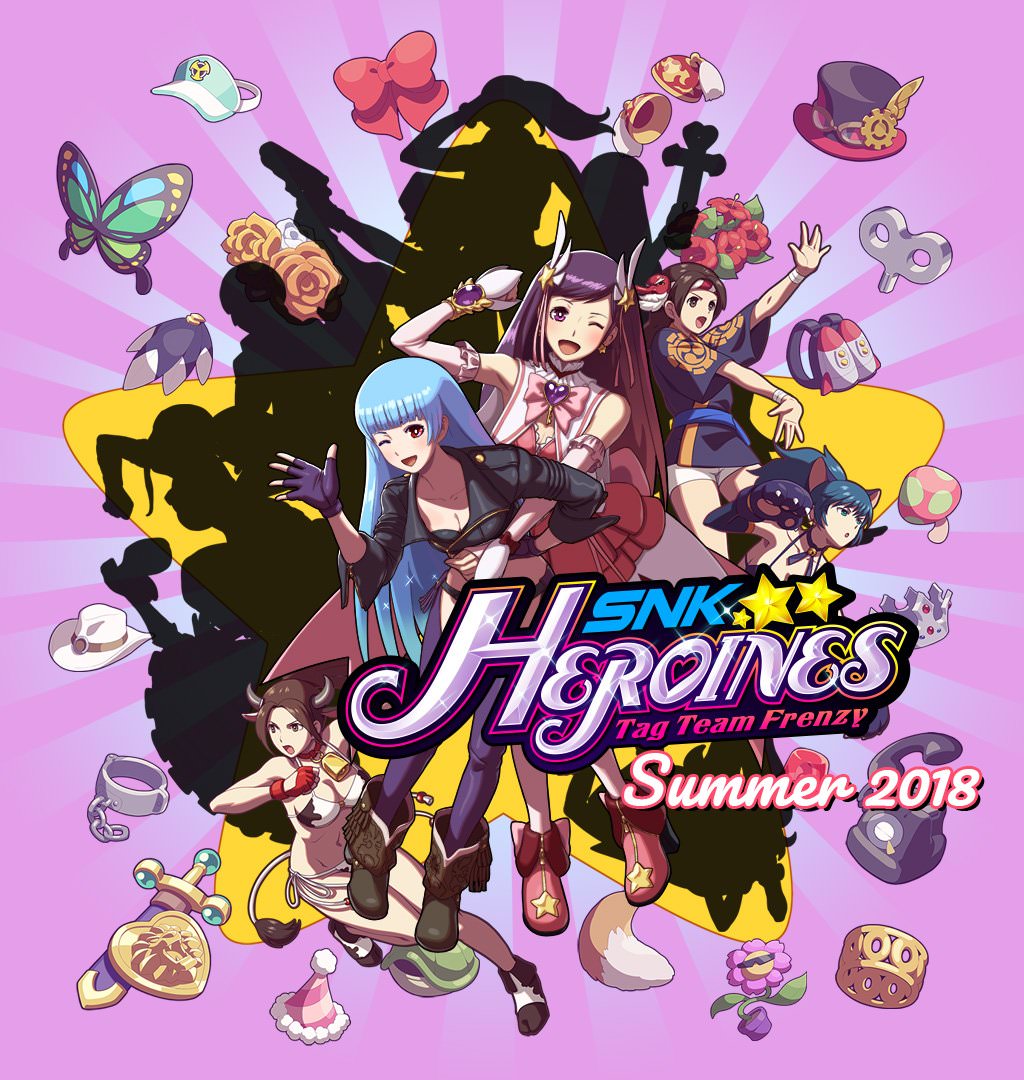 SNK HEROINES:Tag Team Frenzy is slated for release this summer and will be published by NIS America for North America.
The limited edition bundle (Switch/PS4)
will be available for $120 and includes the following:
• SNK HEROINES Tag Team Frenzy game software
• Deluxe Hardcover Artbook
• 2-Disc OST
• Lapel Pin Set
• Sleeveless shirt (Size L)
• Fatal Cutie Cap
• Workout Towel (12" x 42")
• Wrist Sweatband
• Deluxe Collector's Box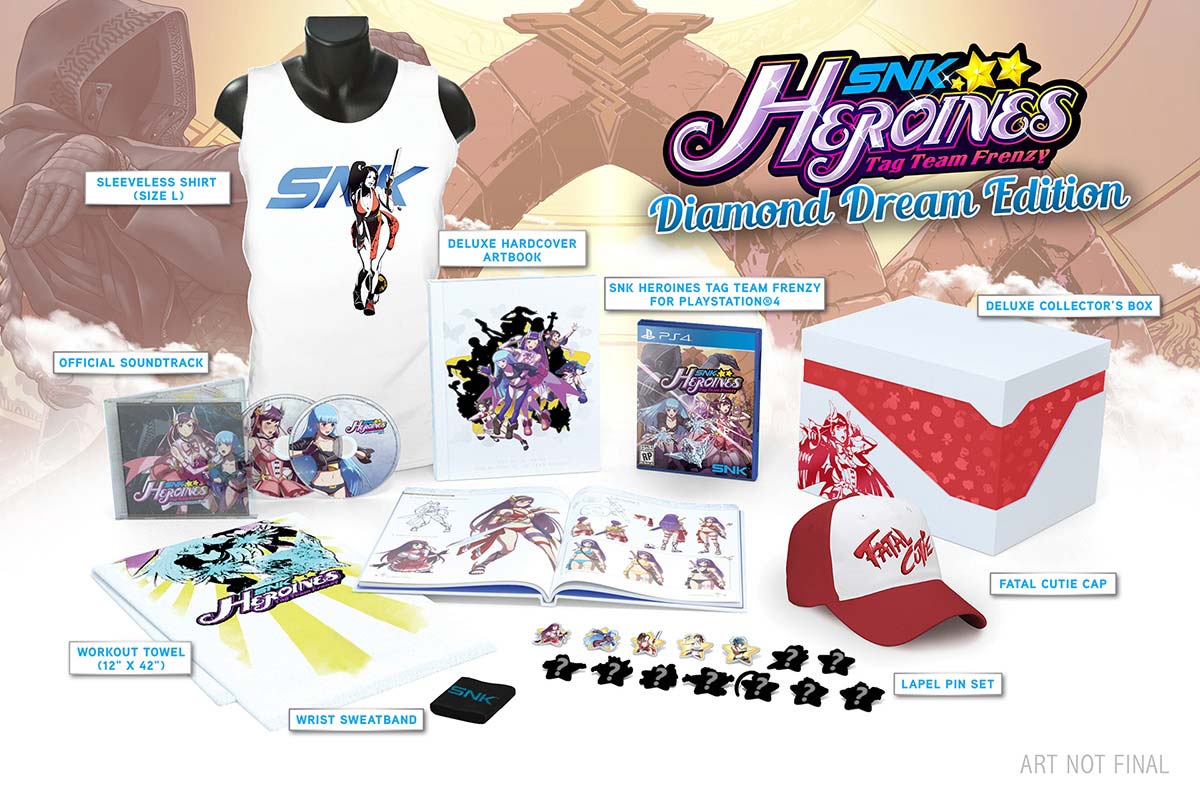 Press Release:
Play online or with friends as SNK's iconic heroines in the brand-new 2 vs 2 fighting game, SNK HEROINES Tag Team Frenzy!
Activate Special Moves with a single button, and make use of special items to change the tide of battle! However, the fight isn't over the moment you've chipped enough health away. Once your opponent is on the ropes, utilize your Dream Finish technique to win the match!
Spectate on other battles online, and wage on who you think will win using in-game points. Use your winnings to buy voice clips and accessories in an all-new costume system, and customize your favorite heroine to your heart's content!
Features:
- Assemble Your Heroines and Battle Head-to-Head – A brand new tag battle action fighting game is here! Players can participate in a four-multiplayer frenzy online or with friends!
- An Iconic Cast of SNK's Female Characters! - Choose from a generous roster of female heroines from the SNK universe!
- Defeat Foes With Style and Elegance – Coordination is key, as players can choose from up to 100 different accessories for their characters. Accessories including cat ears, glasses, face paint, and new sound effects.
https://www.nintendo.com/games/detail/snk-heroines-tag-team-frenzy-switch
---
Thanks to LordSNK and Ishmael for the news.