Capcom's Street Fighter V has been selling much better than anticipated by fans but still half a million units short of its initial sales goal, according to a silent update made in the company's web site.

The company updated its Platinum titles list, placing Street Fighter V at 1.4 million units. The figure goes par with the PS3/X360 re-release of the classic brawler Marvel vs Capcom 2.

Capcom initially targeted 2 million sales worldwide for its financial quarter ending March 2016.


Capcom's Initial Sales goal (IR sheet, Q4FY2015)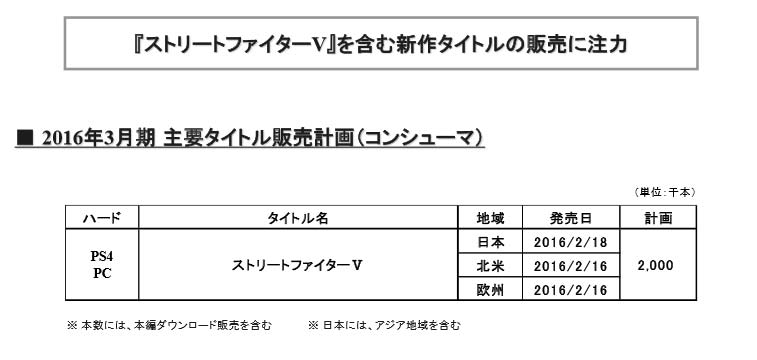 Financial Review as of May 9 2016
In the Digital Contents business, the latest title in the featured series, "Monster Hunter X (Cross)" (for the Nintendo 3DS system), was a major hit, with sales of more than 3 million units, surpassing the initially-planned 2.5 million units, which contributed significantly to both sales and profits. Additionally, "Resident Evil 0 (HD Remastered)" (for PlayStation 4, PlayStation 3, Xbox One, Xbox 360, and PC) steadily increased unit sales, while "Street Fighter V" (for PlayStation 4 and PC) remained a perennial favorite and maintained steady sales mainly overseas.
---
Thanks to Chazumaru for the news.