SNK's favorite air pirate series is making a comeback, but under its new rightful owner. Highlights Entertainment, the company which acquired SNK's pachislot assets, is making their first move of the year.

According to Trademark bot, Highlights Entertainment has filed for what seems to be a new Pachislot title: "SKY LOVE HEART".




https://twitter.com/trademark_bot/status/997058155933822976
The
Sky Love
series' protagonist
Love Heart
has been in use by SNK on their current-gen game title
The King Of Fighters XIV
(2016), which was already in development at the time of the IP's acquisition. SNK thus far has not made clarifications as to whether the character will be returning in future games due to the current status of its originating IP.
Smartphone games based on the two pachislot IPs sold to Highlights Entertainment,
Sky Love
amd
Sister Quest
, are no longer being offered by SNK.
SNK's sales of their IPs comes from a tide of movements after the company founder Eikichi Kawasaki sold his company's ownership; Kawasaki's 81.25% stake of SNK (formally SNK Playmore) was jointly acquired by Chinese businesses
37Games
and
Oriental Securities
through investment holding company
Ledo Millenium
in August 2015. Soon after in November 2015, SNK announced its withdrawal from the pachislot market to focus on its gaming and licensing businesses.
Highlights Entertainment, a newly established pachislot maker at the time, was seeking for potential acquisitions and IPs to start up its business, and signed agreements with SNK in January 2016 to acquire SNK's pachislot hardware assets including cabinets, metal molds, parts, and in addition, the IPs to their popular series
Sister Quest
and
Sky Love
(
Yugi Nippon
). With the acquisition, Highlights Entertainment made its pachislot market debut in early 2017 with a new Sister Quest cabinet. A smartphone app port is also
now available
.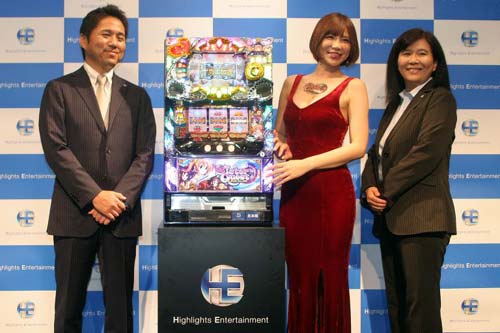 https://yugi-nippon.com/pachinko-news/post-10378/
Highlights Entertainment was established in 2014 by
J-Trust Group
, a holdings company which covers a wide range of businesses from the financial sector to the entertainment market. Highlights Entertainment was created off a small-scale company named I-Denshi (est.1973) that specialized in Pachinko parlor management systems; it was acquired by
J-Trust Group
and went through restructuring and renaming.
In the gaming industry, J-Trust is known for its subsidiary Keyholder Inc., which operates the nationwide ADORES videogame arcade franchise in Japan.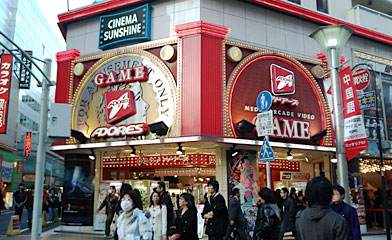 Ikebukuro, where the Adores arcade franchise started
---
Article header image taken from Sky Love: Senku no Kiseki (2013)