If you're enjoying enough of KOFXIV and you want to get a taste of it in real life, a trip to SNK's hometown might just be what you're looking for.

For a limited time starting today, a maid cafe in Osaka CCOcha is doing an official collaboration with SNK. KOF cosplayers will be serving dishes and drinks themed after the game's characters. Here's the menu list according to early reports by user SYA- on Twitter: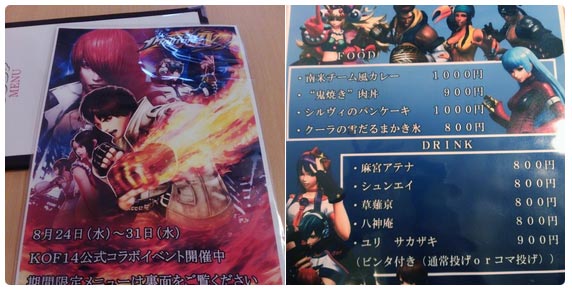 (Image from
https://twitter.com/f_hakkai/status/768332108238495744/
)
Food Menu
Sylvie's Pancake (1000 Yen)
Kula's Snowman Frappe (800 Yen)
Oniyaki Beef Bowl (900 Yen)
South American Team styled Curry (1000 Yen)
Drink Menu
Athena Asamiya (800 Yen)
Shun'ei (800 Yen)
Kyo Kusanagi (800 Yen)
Iori Yagami (800 Yen)
Yuri Sakazaki (900 Yen) *1
*1) Comes with complimentary slaps, available in normal or command throw
Check below for some photos of the served meals, which comes with a free random post card with each order (total 5 artworks). The Twitter user ordered an Oniyaki beef bowl and Kyo Kusanagi drink, which apparently tasted like a Blue Hawaii with an ice cream float.
As for the mysterious fine print on the Yuri Sakazaki drink, it turns out that the waitress (probably dressed as Yuri) will slap the customer according to their request: asking for the normal throw version comes with just a single slap while the command throw version will come with multiple hits. We're just waiting for someone to post up a video or two of that.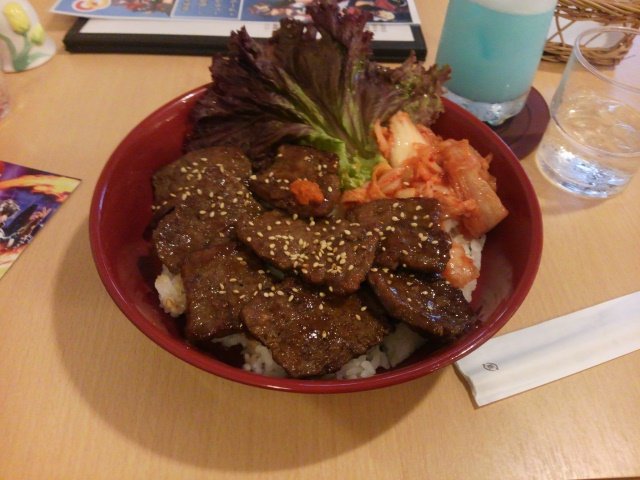 (Image from https://twitter.com/f_hakkai/status/768338973609500672)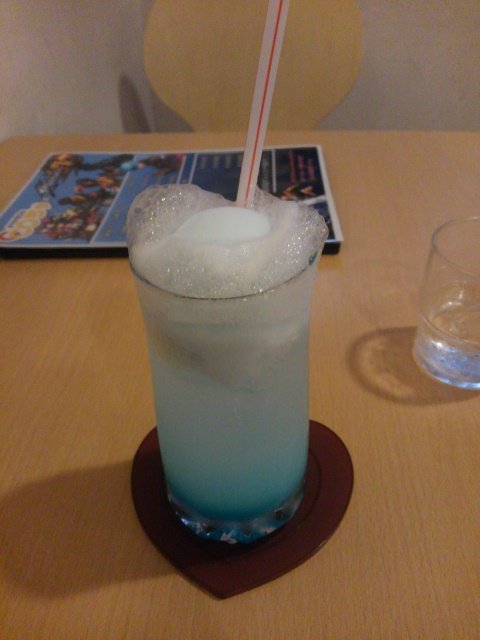 (Image from https://twitter.com/f_hakkai/status/768335905429991424)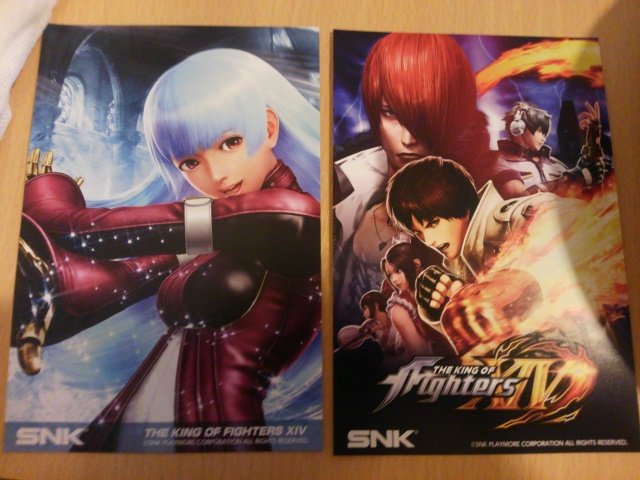 (Image from https://twitter.com/f_hakkai/status/768339866673303554)