A new 36 character build of KOFXIV will be making a national tour around the 8 largest cities in Japan.

Starting May 28 in Akihabara Tokyo, the new build will be playable at 8 major electronics shops thoroughout the country as listed below. Players will receive a free microfiber cleaning towel as a souvenior that comes in one of five random artworks. Anyone that makes a preorder at the store will get an additional for free which they can chose the artwork.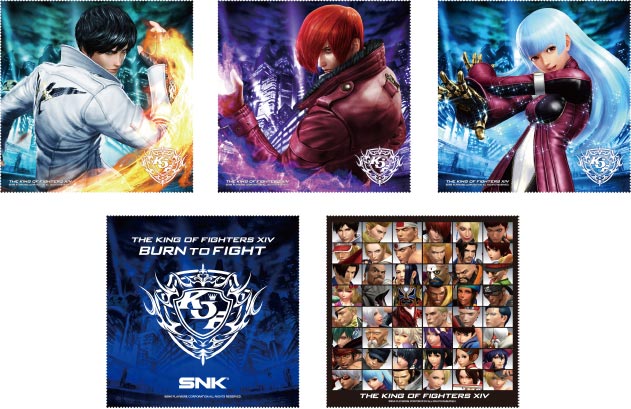 Date and Locations for new 36 character demo:
May 28 / Tokyo, Akihabara - Yodobashi Camera Multimedia Akiba
May 29 / Miyagi prefecture, Sendai - Sofmap Sendai station< branch
June 4 / Osaka, Nipponbashi - Sofmap Namba branch Zaurus 1
June 4 / Osaka, Nipponbashi - Joushin Denki Diskpia Nipponbashi branch
June 5 / Aichi prefecture, Nagoya - Bic Camera Nagoya Station west branch
June 11 / Kanagawa prefecture, Kawasaki - Comroad Theta Shop Mizonoguchi
June 12 / Hokkaido, Sapporo - Yodobashi Camera Multimedia Sappori
June 18 / Hiroshima prefecture, Hiroshima - Futaba Toshi Giga Hiroshima eki mae
June 19 / Fukuoka prefecture, Hakata - Yodobashi Camera Hakata
* All events are from 1PM - 5PM
http://game.snkplaymore.co.jp/official/kof-xiv/news/news01.php
---
Exclusive "Store only" preorder bonuses
In Japan where physical discs still remain strong over digital downloads, holding demo events at stores and taking preorders with exclusive bonuses are a part of gaming culture.
For KOXIV, major retailer
Sofmap
has announced an exclusive B2-sized tapestry which will feature new art still in progress. (Reference: size of a
B2 tapestry
)
Rivaling retailer
Yodobashi Camera
will be offering a special PS4 theme, which will presumably be the same as online juggernaut
Amazon Japan
.
---
In other news, a Sofmap store in Saitama prefecture has shown its love for KOFXIV by setting all its LCD TV demos to the game's trailer. Ironically the prefecture isn't large enough to be one of the candidates for the 36 character tour.

https://twitter.com/sofmap_oomiya/status/733238123019128832