If you've been watching the KOF14 stream from Tokyo this Monday and you're thirsty for more, get ready for tomorrow as KSB2016 will be streaming 8 hours of non-stop gameplay live from SNK's hometown of Osaka.

The stream will start at 10AM JST at the Godsgarden stream URL below. The first 3 hours will be freeplay. From 1PM JST, the venue will host the first ever Exhibition tournament for KOF14, which of course will also be streamed. The tournament will be using the 24-character build. Check below for time zones.

A total of 128 entrants are already signed up for this Exhibition tournament and its brackets can be checked from the below link.

A number of high-level players are scheduled for the tournament including-- Ogosho, Kyabetsu, Kindevu, Sange Tencho, Taki Jinpachi, Umezono, Score, Keykakko, Turkey, Fair, Pam, Ponzaman, Hamatai.



Brackets:
http://challonge.com/sdffsfsdfsdf
http://challonge.com/kofaa
Stream URL for KOFXIV:
https://www.twitch.tv/godsgarden/
Misc Streams:
https://www.twitch.tv/kvo2k13/
https://www.twitch.tv/teamsp00ky/
https://www.twitch.tv/st1ckbug/
https://www.twitch.tv/shi_gaming/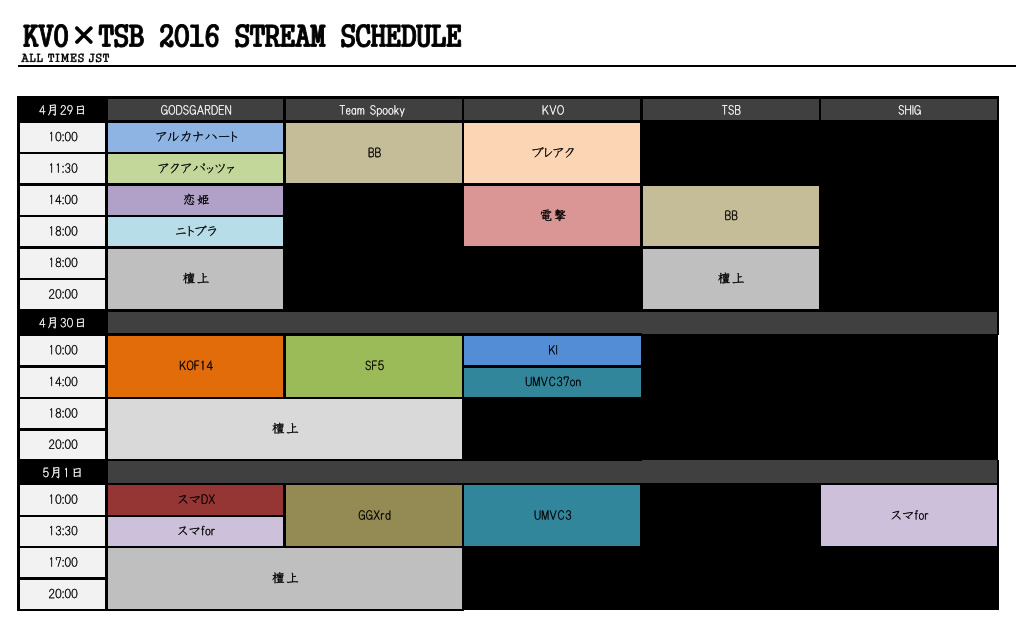 Time Zones
PST - April 29 6PM
CST - April 29 8PM
EST - April 29 9PM
London- April 30 2AM
Paris/Rome- April 30 3AM
Moscow/Helsinki- April 30 4AM
Dubai- April 30 5AM
New Delhi- April 30 6:30AM
Singapore/Shanghai- April 30 9AM
---
Famitsu has also streamed a one-hour show yesterday, which has been uploaded to Youtube by
Gatoray
.