Arc System Works is making a new fighting game based off Cygames' popular social networking RPG game Granblue Fantasy.


One of the surprise announcements during today's Granblue Fantasy Festival taking place in Tokyo was that seasoned developer Arc System Works is currently making a fighting game based off the RPG. Titled
Granblue Fantasy Versus
, the trailer shown at the event had some early development footage of cutscenes and battle clips featuring a number of characters-- Gran, Katalina, Charlotta, Ferry, and Lancelot.
The game is currently being co-developed with Cygames and is slated for release on the PlayStation 4 platform during 2019. A r
eport from Famitsu
says the game is currently about 60% complete with resouces now prepared for going full momentum in polishing up the game. The two companies are giving consideration to also bringing it to arcades.
Following the showing of the trailer, Arc System works' battle planner Kazuto Sekine (Pachi) and art director Hideaki Sawada took on stage to answer some questions.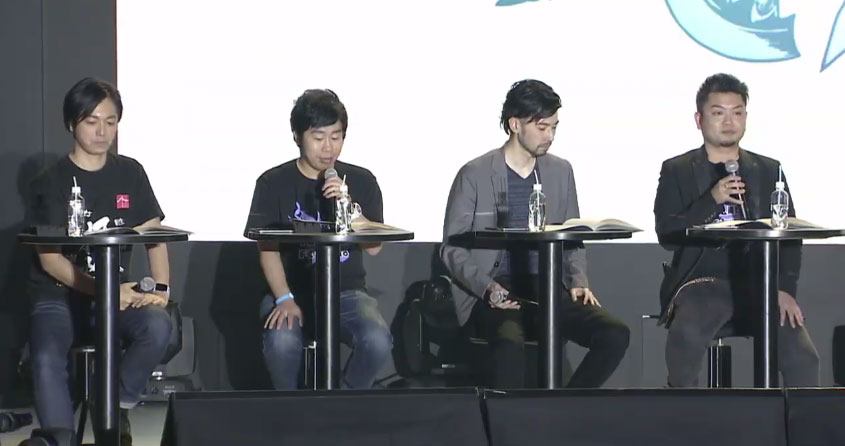 Arc System Works' Sekine is working as the lead planner for
Granblue Fantasy Versus
, developing its game system and working on the characters. He would come up with general concepts of how the characters would move and what sort of movesets they would have, and then talk them over with Sawada, who would come up with ideas and create concept designs for pitching to Cygames.
Sawada further added that he doesn't want to make the game feel like they're just "borrowing skins" from Granblue Fantasy and throwing them into a fighting game, and so they're taking time to play the original, and to translate the RPG's moves while also thinking about how the characters would move around if they were in a fighting game.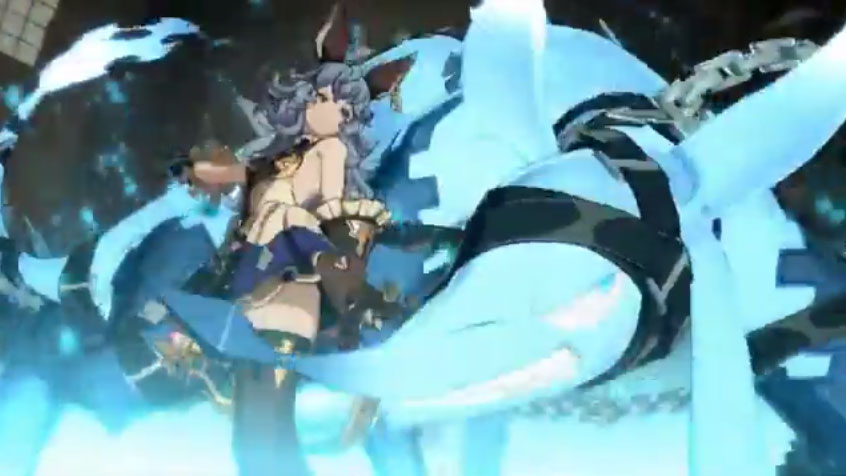 Sekine declined to talk about system details at this time but confirmed that they're giving the game a feel that inherits the smartphone RPG's "ability" moves which can be initiated by the user with a single tap. Similarly to the RPG, they want the game to be easily playable for users, and that means being able to be playable without too many combos.
Cygames' director Fukuhara also added that they want the game to be playable for Granblue Fantasy players and the younger generations that mainly only touch their Smartphones, which can help contribute to the userbase for fighting games. In a separate interview with Famitsu, he clarified that
Granblue Fantasy Versus
will not be a combo-oriented game and that its game speed will be relatively moderate.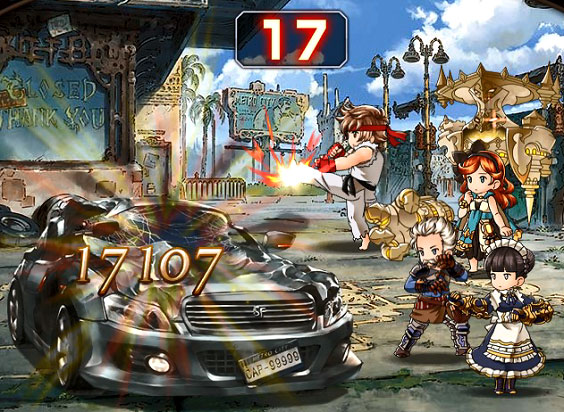 Granblue Fantasy Street Fighter Collaboration (image: Kamigame.jp)
The single player experience is also a key factor for the game development.
"First and foremost, fighting games are action games before they are competitive games. So for this project we're focusing on that, especially given that Granblue Fantasy is an RPG. We're thinking hard on how we can make it more fun for the single player experience", said Sekine.
Given that Cygames is a main sponsor of EVO and also of some esports teams including
Cygames Beast
in the fighting game circuit, it seems that the company is also planning promotional movements for their
Granblue Fantasy Versus
towards the esports scene.
---
Granblue Fantasy
is a web-client based social networking RPG by Cygames, playable on multiple platforms including Smartphones and PC. The game is currently celebrating its 23 millionth registration. The game's characters and artworks are handled by Cydesignation, a subsidiary of Cygames launched by former Square Enix artists Akihiko Yoshida and Hideo Minaba.