With SNK going hyperactive on their licensing for the past year, it was just a matter of time before one of their franchises took a step into the latest tech trend-- Augmented Reality (AR).

A new KOF game that uses AR and GPS to let players catch characters in the real world with their smartphone screen is coming to the iPhone and Android. Developed by a Hong Kong Studio Gameone under license from SNK, the game is titled THE KING OF FIGHTERS GO .



The name and concept behind
THE KING OF FIGHTERS GO
certainly has similarities to a certain "Gotta Catch em' All" app that's been buzzing since a few years ago. Some of its screenshots also shows striking similarities, but instead of adorable monsters that can blast out fire or tornados, it has familiar fighters that are known to do so.
THE KING OF FIGHTERS GO is based on the Orochi saga of 95-97 and the antagonist, of course, is the Orochi. To prepare for battles, players will be searching and collecting for characters in real life locations using their smartphones, let it be shopping malls, playgrounds and whatnot.
Once discovered and successfully knocked out, the characters can then be used as party members to fight battles that feature their signature moves and sounds.
Closed beta test for the THE KING OF FIGHTERS GO has started from July 27, but entering is realistically limited to Hong Kong residents as it requires info on a VIP invitation card currently being given out at the
Anime & Games convention (Anicom)
in Hong Kong this weekend from July 27-31.
The beta testing is currently for iOS only via Testflight; beta for Android has yet not started.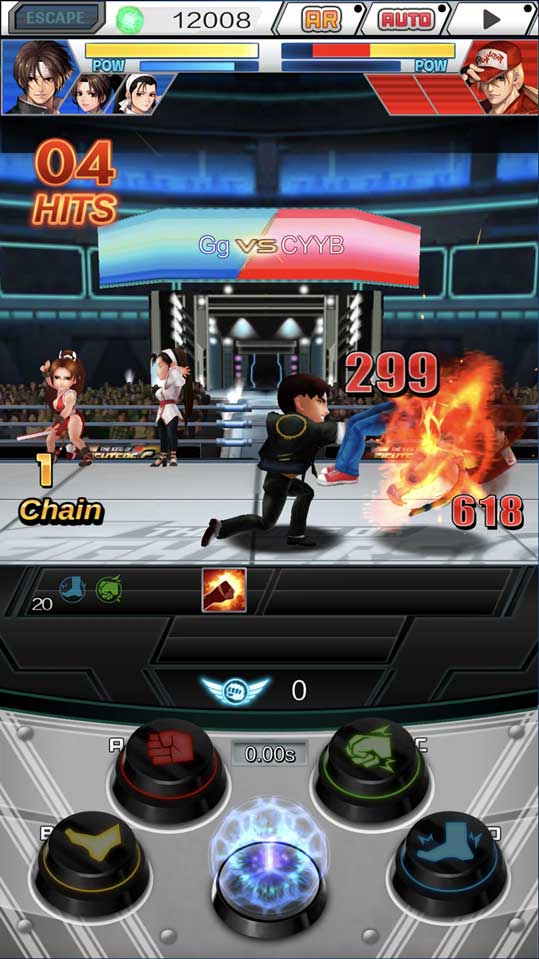 Gameone released a
press announcement in early 2017
that it acquired a mobile license from SNK, citing KOF95-97 as their specific target to make a smartphone game that utilizes AR and GPS. At the time, the game's tentative title was "The King of Fighters-The Orochi Saga Go".
For additional screenshots and information, check out Gameone's official site and Facebook.
http://www.gameone.com/news_detail.php?type=5&id=30221
https://www.facebook.com/KOFGO.G1/
---
Thanks to ATRyoSakazaki for the news.