SNK today launched the official site for its anticipated vintage candycab miniature replica NEOGEO mini, announcing its date and price.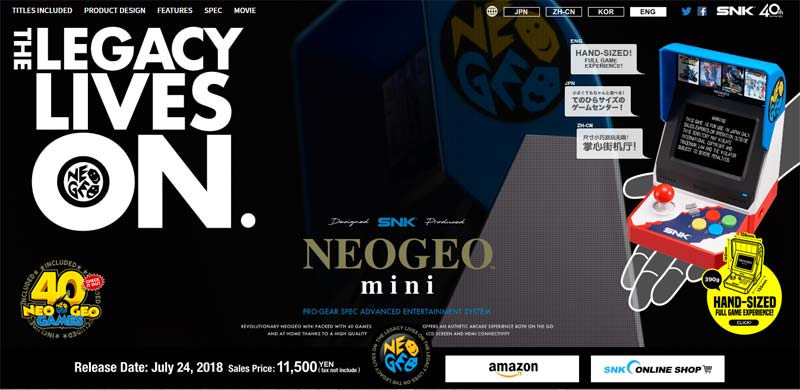 https://www.snk-corp.co.jp/us/neogeomini/
For Japan, the NEOGEO mini will be released on July 24 at the retail price of 11,500 yen, which goes up to 12,420 yen after domestic tax ($104.50 and $112.90 USD, respectively).
Available accessories for additional purchase include the NEOGEO mini PAD stick in black or white (3000 yen / $27.00), a set of screen protectors (600 yen / $5.45), HDMI cable (900 yen/ $8.20), and character stickers (random pack of 4 out of 12, 1000 yen/ $9.10). All prices are post-tax.
The NEOGEO mini uses a USB Type-C connector for its external pads
according to E3 reports
. Given so, the NEOGEO mini pad may be a certain interest to fans beyond the mini console, although the D-pad doesn't click like the original according to Twitter reports.
The NeoGeo mini barely misses SNK's 40th anniversary, which the company will celebrate on July 22. According to previous plans, SNK marketing dept design chief Shinsuke Matsushita said in an
E3 interview with Famitsu
that they were targeting a release on the anniversary day or earlier.
Amazon Japan amongst other retailers have already begun
taking preorders
.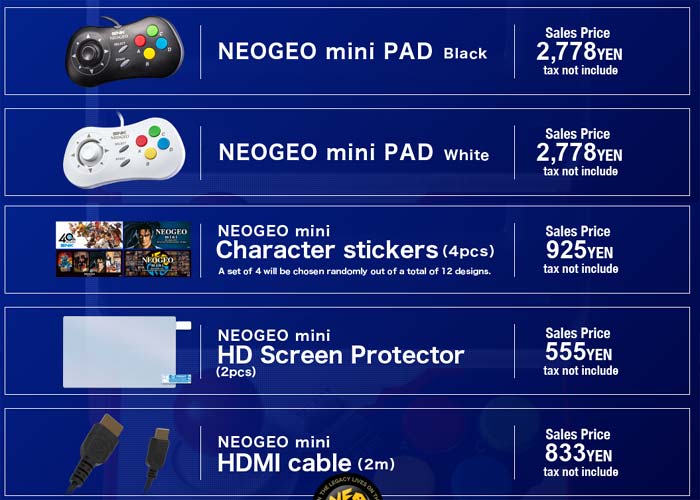 In japan, the NEOGEO mini made its way to Twitter's top Trends in just hours after its price announcement.