The recent Japanese fad of "VTubers"-- Virtual celebrities on Youtube--has been pretty big, and SNK is likewise bringing its KOF idol to life on Youtube as a promo for its upcoming licensed game.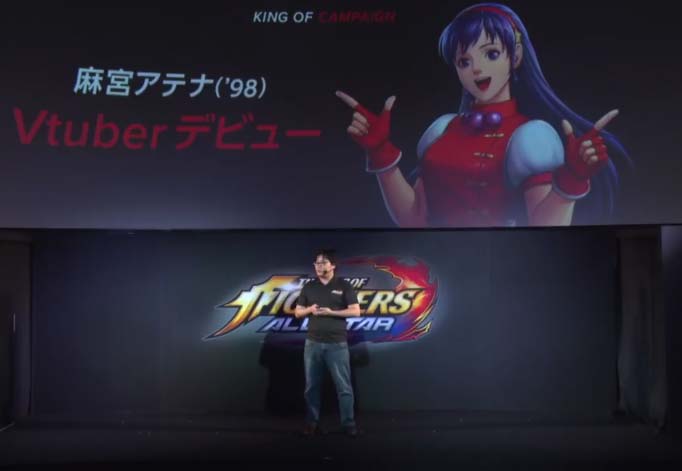 In Tokyo today, Mobile game developer Netmarble held a press conference to unveil details on its new title THE KING OF FIGHTERS ALLSTAR, which will initially launch in Japan with
pre-registration
starting today, with plans to roll out globally later on.
Producer Keisuke Shimizu of Netmarble confirmed that THE KING OF FIGHTERS ALLSTAR will feature characters from 94 up to XIII, keeping their original voices, moves, and combos from the fighting games. A total of 82 characters will be available on launch, with original characters also in the plans for a new storyline that will be unique to THE KING OF FIGHTERS ALLSTAR.
THE KING OF FIGHTERS ALLSTAR will feature a story mode, multi-player coop, and PvP mode. Playing a demonstration through a NeoGeo Land stage, Producer Shimizu showed how the game can play with flashy combos despite its simple controls. Holding towards a direction will make the character move, flicking does a roll, and tapping multiple times will pull off a combo. Onscreen buttons on the lower right side allows the player to do a special which of course can be connected from the combo. Blocking is likewise done by holding a button on the lower right as well. For footage, check the Youtube video below.
With the initial trailer for THE KING OF FIGHTERS ALLSTAR already out in public since a few weeks ago, there has been no question that the game boasts high quality graphics in terms of being a KOF title. The graphics are due to the effort of Netmarble, to which SNK president Kouchi Sotoyama praised on stage during the conference.
SNK's Yasuyuki Oda also appared on stage and said he sees the game as having a "vital standpoint in the history of KOF", commenting on how it features plenty enough volume to cover the whole fighting game series, but as an easy-to-play side scrolling action RPG that keeps the franchise's features.
Netmarble is planning on a slew of promo campaigns for THE KING OF FIGHTERS ALLSTAR, and a few of them certainly raised eyebrows between the many press reporters that attended the conference. In particular, producer Shimizu announced that they will bring KOF's Athena Asamiya into the modern scene, making her debut as a VTuber celebrity on their Youtube channel wearing her 98' outfit.
So what excactly is a VTuber?
VTubers are kind of akin to Youtube talents like the
Angry Videogame Nerd
, but completely virtual and usually a lot more cuter, although their dialogues can often be diabolically cynical. The characters are a CG manifestation with a voice actor, either professional or amature depending on the channel. In this case for Athena, she will be voiced by Haruna Ikezawa who has been lending her voice to the character since KOF98.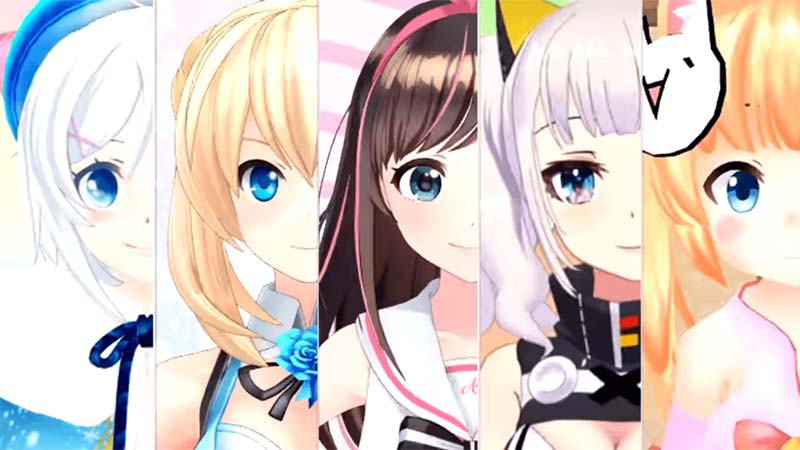 The various faces of VTubers (Image from Newsoku)
VTubers have suddenly started emerging in Japanese pop culture during the past year or two, and it is one of the significant recent movements on Japanese internet following the rapid decline of Nico Video and the mass migration of younger generation users to Youtube.
Japan has its own history of real-life Youtube celebrities like
Hikakin
and
Raphael
and VTubers are still considered a new thing. However they have been picking up on momentum and for example, it's not too uncommon to find
VTuber Gashas
out in the streets. The most most popular VTuber,
Kizuna Ai
is getting a collaboration with major convenience store chain Lawson, which is one of the clearer signs that the fad is spreading fast. Needless to say the character already has thousands of fanart on
Pixiv
.
The current top three VTubers are
Kizuna Ai
,
Kaguya Luna
, and
Mirai Akari
. While it's strongly doubted that Athena could make her way up to even the top 20's on the charts and compete with other VTuber characters that cater towards the more casual crowd, it's still a huge progress considering how nonactive that SNK has been for at least the last decade.