Square mid-term Stockholder Report Released - 1.16.01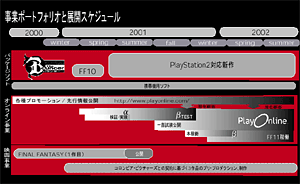 Square released mid-term reports for stock holders.
A number of Square's aims have been noted on the report; a few in specific include-


1. Play Online
Play Online is scheduled to begin alpha testing from Spring, and begin services starting winter.
With promotions such as the Playonline.com site and release of upcoming game information, Square projects to bring in a quantity of potential customers into the PlayOnline services.


2. Final Fantasy XI
Final Fantasy XI is labled by Square not as a "Package Software" (ie: The bouncer, final Fantasy X), but as an "Online Service". Final Fantasy XI for the Play Online will begin alpha testing from fall, continute to beta test in Winter, and start product services from Spring of 2002.


3. Movies
While Final Fantasy -The Movie- is scheduled for release in Summer, Square has 3 more movies contracted with Columbia Pictures, to be released in the future.


4. Future Projection
Square plans to release high quality contents to gamers through PlayOnline& package software, and non-gamers through Movies. Thus, by creating a range of consumers consisting of both gamers and non-gamers, Square gains a large "user community" to target towards.


5. Subsidiaries
While Square has divided their departments to seperate companies last year, Square will merge two of their subsidiaries- Square Visual Works (CG & CG movie development), and Squarts (game software quality assurance & customer support) to their parent company, Square.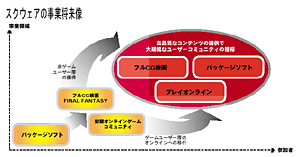 For Square's mid-term report, check Square's site at
http://web.square.co.jp/
http://web.square.co.jp/company/exsite/download/pdf/kabutuu_03.pdf (Direct Link)



[ Reader Comments ]
Copyright Square, 2001