Sega makes Official announcement for Discontinuation of DreamCast Consoles
Plans to release games for Playstation 2 and X-Box
- 1.31.01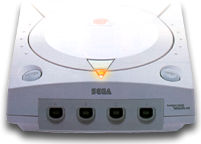 Today - 1/31/01 -6:30 PM Tokyo, Japan: In the Toshou Stock Exchange, Sega's Vice President Hideki Satou and special advisor Tetsu Kayama announced Sega's decision to discontinue the production of their home console "DreamCast (DC)".

Sega has also officially announced of their decision to release software for SCEI's "Playstation 2" and Nintendo's "Game Boy Advanced" -released in March. In addition, Sega has announced that production for Microsoft's "X-Box" and Nintendo's "Game Cube" are being negotiated between the companies.

Sega plans to sell 9 million copies in games on the Dreamcast for the fiscal year of 2001, and 13.5 million copies in total with the additional sales on other companies' consoles.


From the discontinuation of their Dreamcast production line, Sega's final deficit has now increased from 12 Billion Yen to 20.6 Billion Yen. Sega's president, Isao Okawa will be donating 85 Billion Yen of his personal assets to Sega. Most of Okawa's donations will consist of stocks, some possibly being that of Sega's parent company, CSK.

Sega Public Release Note

Sega has released a public release regarding their discontinuation of the Dreamcast.
Translation goes as follows-
Sega (Headquarters: Tokyo, Representative CEO & President: Isao Okawa) will specialize its home game business to what is Sega's greatest strength: contents business. Currently in plan to broaden sources of income, Sega will further its multi-platform strategy and become the world's greatest content provider.
In addition, Sega will put an end to the previous business model which has centered on game consoles, and discontinue the production of the home console - "Dreamcast (DC)" at the end of 3/2001. As for the DC software business, Sega will proactively engage in it, scheduling 70 titles to be released during the fiscal year of 3/2001 (4/2001 - 3/2002).

Likewise to the new business strategy announced in 11/2000, Sega has already begun releasing rich contents to portable phones and PDA(portable terminals) as a part of the multi-platform strategy. As phase 2 of the contents business strategy, Sega has decided to release 8 potential software titles; for Nintendo corporation's "Game Boy Advanced (GBA)": "Sonic the Hedgehog Advanced (tentative title) and 3 other titles, for Sony Computer Entertainment's "Play Station 2": " Virtual Fighter 4" and 5 other titles.
Since Sega's establishment in 1960, Sega has grown as an amusement machine maker, and joined the market of home game machines after 1983.As a creator of leading products, Sega's core strength as a leader in the market was the ability to develop contents, having the technological abilities to create numbers of products that were "the first in history", being rated throughout the world as having one of the world's highest software assets.

As the game market meets the 21st Century, it is surrounded by an environment of change. The business model for home game systems is coming to a period of change as well. Previously the business model for home -which consists of hardware and software, was to provide high spec hardware to users at a low price, and then make profit by selling multiple software to each hardware sold. However, due to the breakthroughs in semiconductors, the price of hardware simultaneously rose with the increase of specs, making it difficult to maintain balance between hardware business and software business. This created a situation where achieving a structure of income is difficult.

As a platform strategy based on this situation, Sega has already made changes in the hardware business model. This strategy is to make use of DC's greatest feature; the communication function (*modem). DC's architecture -with this function, is being promoted to network related companies which provide products such as PC, STB (Set Top Box), and electronic equipment. This will allow DC contents to be available in a broad variety of platforms.

As contents business is Sega's greatest strength, it has been decided that Sega will swiftly change to a contents oriented business model, in order to gain a new income structure.
Being able to provide high quality software from the past & in the future on different platforms, Sega will aim to become the world's strongest contents provider, and to create revenue.


Sega Secondary Public Release Note
In the secondary public release, Sega goes on to explain details on why their decision was made, what will be done about the Dreamcast, and what they will be projecting for the future. Notes from their explanations goes as follows-





Reason of DreamCast's Discontinuation

- Sega plans to be reborn as the world's number one provider of contents. From now on, Sega will specialize in delivering software (PC, PDA, next-generation portable phones, etc), and also work on amusement/arcade releases. (Note: Sega has already made contracts to release contents for the portable machine "Palm".)
- The main reason of Sega's continual 4 years of deficit comes from the retailing of the Dreamcast. The result came from multiple reasons: lack of sales, difficulty in balancing cost of the Dreamcast's production and software sales, fighting over hardware shares with other companies, and lowering the retail price of the Dreamcast console.
- Due to those reasons, Sega has decided to discontinue the production of the Dreamcast, and to make it the final hardware to be released.
- Without this decision to discontinue from Hardware production, Sega cannot hold its standpoint as a leader in the amusement industry.




Future Plans and Support for the Dreamcast

- From the sudden decrease in the United states economy, the sales of Dreamcast consoles during the Christmas season in the US and Europe ended low. As a result, Sega currently has over 2 million Dreamcast consoles left in stock, world wide. While customers are asking if Dreamcast consoles will no longer be available, Sega will make sure in the future that the consoles left in stock will be available even more than now.

- Sega themselves have 30 titles currently in production for the Dreamcast, and over 40 titles are in production by licensed companies. Sega assures that games will not be scarce for a long time, and that they will do their best effort to have companies continue software production for the Dreamcast.

- As methods to have companies to continue software production and to lengthen the Dreamcast's life span, Sega plans to be flexible on license charges to software publishers, and in delivering development tools and libraries. Multiple methods of purchasing Dreamcast software are also planned, including the strengthening of Sega's online store "DreamCast Direct", and creating more partnerships.
- While their shapes will be different, Dreamcast's architecture will be used in other hardware such as the PC, STB (Set Top Box), and other electronic equipment. Already under contract as announced, Pace Micro Technology (UK), will be adopting the DC's architecture in their future STB.
- Sega will continue their after-service and warranty of the Dreamcast as long as possible. Repairing will be available for 6 years after the production of the Dreamcast discontinues, and likewise, spare parts will be available for 6 years as well. The Support center will continue to function as long as products are released for the Dreamcast.
- Sega plans to regain their standpoint in the amusement/arcade industry,and hopes to be known as the "Sega of the Arcades". No longer having the barrier of being a hardware developer, Sega now can create software also in alliance with other software publishers.




Future Plans for Sega

- As a provider of software, Sega will release games for the Playstation 2, starting with "Virtua Fighter 4", "Sakura Wars series", "Space Channel 5 series", and "Tsukoru series". In addition, there are plans to renew and release Sega Saturn games to the Playstation (PSOne), with Europe and the United States as the main target.
- For the GameBoy Advanced, "Chu-chu-Rocket!" will be released in Japan in Spring, and "Sonic the Hedgehog Advanced" (tentative title) will be released when the GameBoy Advanced is released in the US -and simultaneously in Japan as well.
- As for releases in Nintendo's Game Cube and Microsoft's X-Box, Sega is currently at negotiation with the two companies. However, both companies have cooperated and the development environments have already been created.
- Sega will also restructure for software development in the PC, to now sell products under the name "Sega PC".
- Sega also plans to release products for the internet/network, and is currently in preparation with other companies to strengthen their hardware, (SCEI has been reported to be one of them).


Sega hopes to be known as the "World's number one contents provider", and plans to become one which can influence platforms of the other companies.







Sega is welcoming to listen to user's voices. For comments, feel free to write to Sega at-
http://www.sega.co.jp/sega010131_6.html

For Sega's public release, check
http://www.sega.co.jp/sega/corp/news/nr010131_2.html

For Sega's secondary public release, check
http://www.sega.co.jp/sega010131.html


[ Reader Comments ]


Copyright Sega, 2001